THE CORONA VIRUS FIFTEEN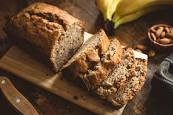 Everyone I know has gained weight - up to fifteen pounds - during the coronavirus lock-down.  Here's the main culprit in my house: Rachel Ray's Chocolate Chip Banana Bread.  So easy to make, so quick to eat.
Ingredients

    1/4 cup vegetable oil
    1 1/2 cups flour
    1 cup sugar
    1 teaspoon baking soda
    1/2 teaspoon salt
    2 eggs, lightly beaten
    3 bananas, mashed (1 cup mashed banana)
    1 cup chocolate chips

Preparation

Pre-heat the oven to 350°F.

Grease and flour a 8 1/2-inch x 4 1/2-inch loaf pan (or use baking spray).

In a large bowl, whisk together the flour, sugar, baking soda, and salt. Mix in the oil, bananas, and eggs. Stir in the chocolate chips (do not over-mix!) and pour into the prepared pan. Bake until a toothpick inserted in the center comes out clean, about 60-80 minutes. Cool the loaf in the pan for 10 minutes, then turn out and cool completely, right side up.
https://www.rachaelray.com/recipes/chocolate-chip-banana-bread/
Comments
No comments made yet. Be the first to submit a comment
By accepting you will be accessing a service provided by a third-party external to https://malindajomuzi.com/