RANDOMNESS AND THE CORONAVIRUS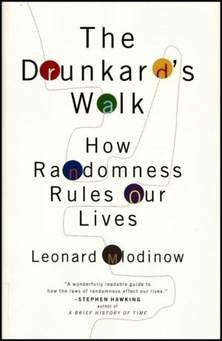 One day I was teaching a class of thirty-seven on the subject of childhood identity.  The next I was home emailing my students to say they would never see me again, except by Zoom or Facetime.  The coronavirus had come to town, in this case, Philadelphia.  This brings home the influence of randomness in our lives, the subject of a book I'm reading by Leonard Mlodinow. The title comes from a mathematical term describing random motion, such as the paths molecules follow as they fly through the air colliding with other molecules.  This is similar to how virus molecules spread from person to person as we talk and cough while strolling around Whole Foods if we unknowingly have the virus and don't wear a mask. 
Most of us underestimate the role of chance in what happens to us, be it in our careers, relationships, or life events.I went to an art exhibit during a snow storm in 1968 and ran into a former professor of mine from Temple University; we were both admiring a Peale painting of George Washington's sons.  He offered me a job as a college professor in a new college where he was a Dean. I was twenty-six years old and stayed at the job for fifty-two years.  I met Jean Smith when she edited my first book for MacGraw Hill.  She is a premier writer of books about Buddhism.  Reading her books and knowing her led me to a much more contented life than I might have had had I never been introduced to this way of thinking. 
Research in cognitive psychology reveals that when chance is involved,  thought processes and judgment are seriously impaired, as we see in the example of the imbecilic president and many of his followers who think wearing a mask in the face of the coronavirus is foolish.  If I hadn't learned from Jean Smith about "right thinking" I'd say, "The hell with them; let them get the virus."  But unfortunately, it's their parents, grandparents, and friends they are endangering.  So while it may be randomness that determines your future health, it doesn't mean your actions don't matter.  I did leave my house in a snowstorm to go to that art show.  And you can wear a mask and wash your hands to limit your chances of warming yourself and the people you around you. 
Comments
No comments made yet. Be the first to submit a comment
By accepting you will be accessing a service provided by a third-party external to https://malindajomuzi.com/