THE END OF LOVE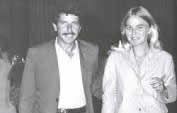 I recently read the letter singer-songwriter Leonard Cohen sent to the grievously ill Marianne, the woman he loved and lived with on the Greek island of Hydra during the 60's; the letter is perfect for its brevity.  
Dearest Marianne, I'm just a little behind you, close enough to take your hand.  This old body has given up, just as yours has too.  I've never forgotten your love and beauty.  But you know that.  I don't have to say any more.  Safe travels old friend.  See you down the road.  Endless love and gratitude.  Your Leonard. 
Leonard Cohen died four months after Marianne.
Comments
No comments made yet. Be the first to submit a comment
By accepting you will be accessing a service provided by a third-party external to https://malindajomuzi.com/